Clean, Modern & Comfortable Lodging
Everything imaginable is provided for. No need to bring anything except your desire to enjoy an outstanding hunt. Most have full cooking facilities and utensils. All locations have excellent dining options nearby.
I have spent a good part of my life on the road pursuing outdoor dreams and fully understand what the travelling sportsman needs and wants. We strive to provide our guests exactly what we expect. Clean, comfortable and spacious accommodations. This is exactly what you will find and receive from us.
Mellette Farm House (39965 150th Street, Conde, SD)
Available for Fully-Guided Hunts
A very large classic farmhouse situated right in the middle of our pheasant hunting grounds. It boosts 3600 square feet of space with 5 bedrooms and 2 full bathrooms. The house has just underwent a complete restoration and is quite nice – the style and beauty of an old farmhouse with a fresh modern look and feel. The kitchen is fully equipped and grills are also available should you want to prepare your own meals. Cable TV and high speed wireless internet are provided to keep you in touch with home and business or to catch the big game on TV when relaxing after the hunt.
Mellette Man Cave (38910 148th Street, Mellette, SD)
Available for Fully-Guided Hunts
This lodging option features 2 bedrooms that sleep up to 8 hunters. There is also a hot tub, sauna and bar on site. For those interested in doing rudimentary cooking, there is a grill and basic utensils available. Cable TV and high speed wireless internet are also provided at this location. Dogs have the option of being kenneled in available outbuildings as well.
Redfield Apartment (38748 170th Street, Redfield, SD)
Available for Fully-Guided Hunts
Located just two miles from Redfield, this apartment-style set-up offers a fully equipped kitchen built right into an expansive shop building. This lodging options sleeps up to 8 hunters and offers high speed internet as well as sleeping options for your canine companions.
Hosmer Lodging
Available for Self-Guided Hunts
For those hunting in or near Hosmer this lodging option can accommodate up to 9 hunters. This location also features a fully equipped kitchen for those who want to prepare meals. For those who don't, there is a great cafe and bar located right across the street. High speed wireless internet is also available at this location.
Ramona Lodging
Available for Self-Guided Hunts
If you're planning a hunt for family members or a large group with a wide range of skill levels, this is a great lodging and hunting option for you. In Ramona the hunting grounds are right outside your door-so no driving is required-and the terrain is easy to manage. We can also guarantee your success rate by releasing top quality birds, if that is of interest to your group. Please note that this is the only location where we offer this. This is a great option to build confidence for inexperienced or challenged shooters while allowing them to have a great hunt. High speed wireless internet is provided. Fully outfitted kitchen is available at this lodge as well.
Dean's Place (408 W. Main Street, Mellette, SD)
Available for Fully-Guided Hunts
Our newest location right in my quaint little hometown of Mellette, SD. All 1,500 square feet of living quarters and the 1,500 square feet rec room have been remodeled and are ready to receive our guests. 2 bathrooms, 7 beds, fully outfitted kitchen along with the spacious rec. room make for a great place to swap stories after the hunt. High speed wireless internet is also provided. Excellent game processing facilities and dog kennels round out the package. And, all within easy walking distance of Flinner's Bar and Grill, offering a full menu ranging from homemade pizza to prime rib.
Dean's Place is also available for off season rental. Whether you're planning a family reunion or are needing extended group lodging for business, we offer reasonable weekend and extended stay rates. Contact Dennis at (605) 887-7069 for more details and to make your reservation.
Bluestem Lodge (36310 115th Street, Leola, SD)
Available for Self-Guided Hunts
Brand new facility. Extremely rustic and rural theme interior. All amenities that you can think of are in place for your group. 4 Bedrooms sleep 8 Hunters with 2 full baths. The dining area is thoughtfully laid out with an exceptional kitchen and utensils. You will find it difficult to leave the comfortable atmosphere of the living space. There are bird cleaning facilities on site. Even your canine companions are equally well treated with enclosed and heated dog kennels.
Brentford Bungalow (408 S. Gregory Ave. Brentford, SD)
Quaint and Quiet. Located in the village of Brentford (population 90) right in the heart of our guided pheasant and waterfowl operations. Well-furnished and comes complete with 3 Queen Beds and 2 King Beds. Comfortable accommodations to kick back and relax after a busy day of banging on our birds. As with all our lodging options it comes complete with a full kitchen and utensils.
Destination DeSmet (43169 218th Street, DeSmet, SD)
Available for Self-Guided Hunts
Newly remodeled farmhouse located on a well-managed hunting property.  This area was the inspiration for the Laura Ingalls Wilder "Little House on the Prairie" series.  All the travelling hunter's needs have been considered for this one and can comfortably accommodate 12 guests.  Nicely furnished with 3 bedrooms, 3 full baths.  Wake up to a beautiful prairie sunrise as you prepare for the days hunt.  Then hit the fields ( all within mere minutes ) enroute to your limit of Roosters.  Finish up by dressing them out in the provided facilities and enjoy your beverage of choice while witnessing a breathtaking sunset.  Full RV hookups are also available onsite.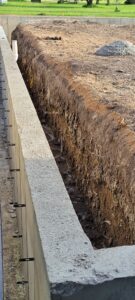 Dean's Addition (408 W Main Street Mellette, SD)
Available for fully-guided hunts. Currently under construction. Offering 1,500 feet of living and sleeping areas consisting of: 4 Bedrooms, 3 Full Baths, Auxiliary Bathroom and Living and Dining Area. You will also have full access to the games and bar area in the 1,500 square foot game room. Has the ability to sleep up to 8.  An extremely comfortable group size would be in the range of 6 to 8 guests.
Roscoe Retreat ( US Hwy. 12 Roscoe, SD )
Available for Self-Guided Hunts
Roomy and restful lodging located on the edge of a rustic prairie town.  Recently remodeled with all the amenities you desire.  Sleeps 8 with 2 full bathrooms.  Conveniently located just a block away from a notable steakhouse/café and lounge and only 2 blocks away from a new and very well stocked convenience store.  Everything you could possibly want prior to-and after the hunt-is all within easy walking distance.  Thousands of acres of varied habitat await to stretch your legs a bit further…   
Hunter's Haven (Hwy 281, 6 miles from aberdeen, SD)
Hunters Haven is a beautiful A-frame log home with a spacious, open-concept living and dining room ideal for large groups to gather. Impeccable views through the south-facing floor to ceiling windows draws light into the loft sleeping area that will comfortably sleep 6-8. The loft has a dynamic lavatory space with a garden tub, shower area, double sinks and shares space with a huge walk-in closet. The main floor accommodations include a master bedroom with full bathroom and an exquisite kitchen sporting an island and a peninsula for personal and larger group dining or catering options.
Clean your birds and kennel your dogs in heated comfort and then hit the game room while enjoying a beverage and the large screen TV & pool table.
Directly off Hwy 281 – AMPLE parking, on-site laundry, 1/4mi from Aberdeen Gun Club, 1/2 mile from Brown County Shooting Range (Sportsman's Club) and only 6 miles South of Aberd