Prime Pheasant Country in SD
With Dakota Pheasant Guide you will be taking your part of a true fair chase hunt to harvest only 100% Wild Pheasants. Our hunts are conducted just the way we learned from our fathers as we grew up hunting here in the heart of Pheasant Country. Meaning, no riding to the field in buses and then lined up to "shoot" pen raised birds over pretentious dogs, or any of the other quite frankly, silly fanfare involved with most commercial hunting operations. Our dogs-pointing and flushing-are trained in very fields we hunt. They work hard for a living…just like we do.
The hunting land for this year looks especially promising as there is great cover and large broods of new birds in each area. The land looks so encouraging that after a mild Winter, we should see the best season in recent history. We've also added new land for this season. Take a look at one of our recent blog posts to learn why this area of the country is one of the best places for pheasant hunting.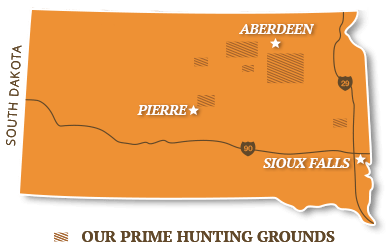 Dennis has access to enough incredible pheasant habitat to ensure there are plenty of pheasants and they aren't over pressured. In true South Dakota style, he runs a large number of dogs-both pointing and flushing-that work together as a team to put the birds up and quickly bring them to hand.  You have to participate in one of these hunts in order to truly appreciate the experience.

– Larry Rencken, Vice President of Sales for Raymarine
South Dakota Pheasant Hunting Land
We have unlimited rights on over 200,000 of acres of private land with high quality habitat for the exclusive use of our guests.  Roughly half of this is allocated for our Self-Guided hunters.  Please note that some of the Self-Guided properties even have Sharp-Tailed Grouse, Prairie Chickens and Hungarian Partridge.  Seasons run concurrent with Pheasant and your Small Game license is valid for all.  Thus providing even more opportunities for our guests.