We are not a pheasant preserve.
We are not a grain farm.
We hunt wild birds. We are serious hunters.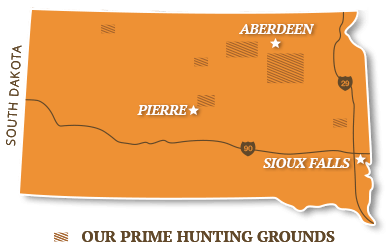 Welcome to Prime Pheasant Country
We have thousands upon thousands of acres of prime pheasant hunting land in northeastern and north central South Dakota. Our land owners have created an environment where pheasants thrive due to diverse habitat options that include grasslands, CRP, shelter-belts, sloughs, creek bottoms and food plots. With Dakota Pheasant Guide you'll experience a good old fashioned pheasant hunt in the beautiful wide open spaces on some of the highest quality land you could ever hope to find in South Dakota. We cordially invite you to come on out and discover for yourself what a superior experience upland bird hunting wild pheasants with us can be.
Three Packages to Fit Any Hunting Party's Needs
With Dakota Pheasant Guide you're sure to have a pheasant hunt like no other.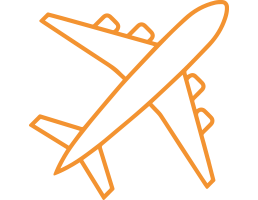 Preparing for Your Trip
From what airports to use to what to pack, we've got some tips to help make your trip a successful one.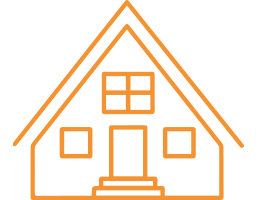 Preview Our Lodging Options
We offer several lodging options to fit your party's size and needs. Each in the heart of pheasant country.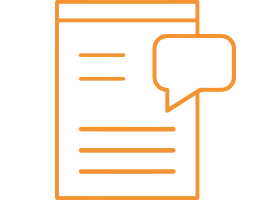 Stay Informed with Our Blog
As a seasoned outdoorsman and professional writer, Dennis Foster contributes insights for your hunt.
"Thanks for the great hunting experience we had with you and your dogs. We learned so much. I was so happy to shoot my first truly wild pheasant."
– Vikki Bauer, Newport Beach, CA
"The hunting and hospitality is phenomenal. Book a hunt and I can guarantee you memories that will last a lifetime."
– Tom Poorker, Founder, Focus Outdoors TV
"Great hunt! Thank you so much as we limited every day. We would like the same dates for next year and this time we will... bring more guys!"
– Alton Scheels, New Mexico
"The hunting was exactly what we wanted. Dennis put us on a farm that was perfect for us. We are already looking for three days next Fall."
"The habitat quality and available food sources gives hunters access to a lot of birds, any day of the fall or winter."
– Andrew Johnson, Editor, Outdoor Forum
This is the only guide that I have came back to for another trip. I have hunted SD multiple times. They are the best hands down.
Dakota Pheasant Guide was first class. They are super responsive with Dennis being very professional and organized. Brandon was professional, skilled and patient with us and knew the land inside and out. The accommodations were very comfortable, clean and convenient.
This was my first hunting experience ever. I was so impressed by Dennis's communication and organization. They made the hunt so enjoyable and fun. Will be doing this again and again.
Had a very successful hunt and fantastic experience. I was impressed by our guide, Brandon, as his knowledge, expertise, and well-trained dogs ensured many opportunities to bring down some wild roosters - and we brought home plenty. Already can't wait to come back next year!
Would highly recommend this outfitter for Pheasants. We had a party of four and the accommodations were very nice and down-to-earth. Brandon (guide) and his dogs worked hard to provide opportunities at birds and each hunter had a great experience. Looking forward to coming again, good hunting with even greater people.
First time pheasant hunting and was lucky enough to hunt with Dennis. Our group of six hunted three days and had success each day. This was my very first pheasant hunt so I was a bit wide eyed to say the least. Dennis put us on birds from the start and we shot limits each day. Dennis pushes hard and made sure we had the opportunity to take birds.
Dennis and his team where great. Great cover and great wild birds.
I want to report to you that my group and I had a great Self-Guided hunt at Roger Lee's a few weeks back. If possbile we would like to go ahead and reserve next fall at Roger's farm for the second weekend of the season. We anticipate having a minimum of 4 and maximum of 6 hunters. If possible, we'd like to hunt for 4 days.
Great hunting, appreciate the help, the On-X pins were new to me, worked great. Not sure if I ever saw other boot prints, not like hunting Nebraska walk-ins.
Dennis, we had a great hunt-even with our missed shots-we were just short of limit. Beautiful piece of property and lodge was perfect for our needs. Will be booking again…
Whitetail Archery Bucks
We offer a limited number of exclusive trophy whitetail adventures strictly for bow hunting enthusiasts. We have full and self-guided packages available with lodging for most.
Predator Hunting
Predator hunting is free and encouraged to thin the population. It's free with a booked hunt or available as a stand-alone opportunity as well. We have prime locations or you can take aim in the field with your shotgun if the animal is in the open and no dogs are nearby.
Fishing
Whether your interest is Walleye, Perch, Bass, Northerns or anything else, we can create a South Dakota fishing package for a trip of a lifetime. With Dennis you'll have access to top-of-the-line equipment as well.
Waterfowl
Rely on our young, eager guides to take you on a successful waterfowl hunt. You'll be in the hands of men who are diligent, hard-working and ready to do whatever is necessary to get you into the best waterfowl hunting available.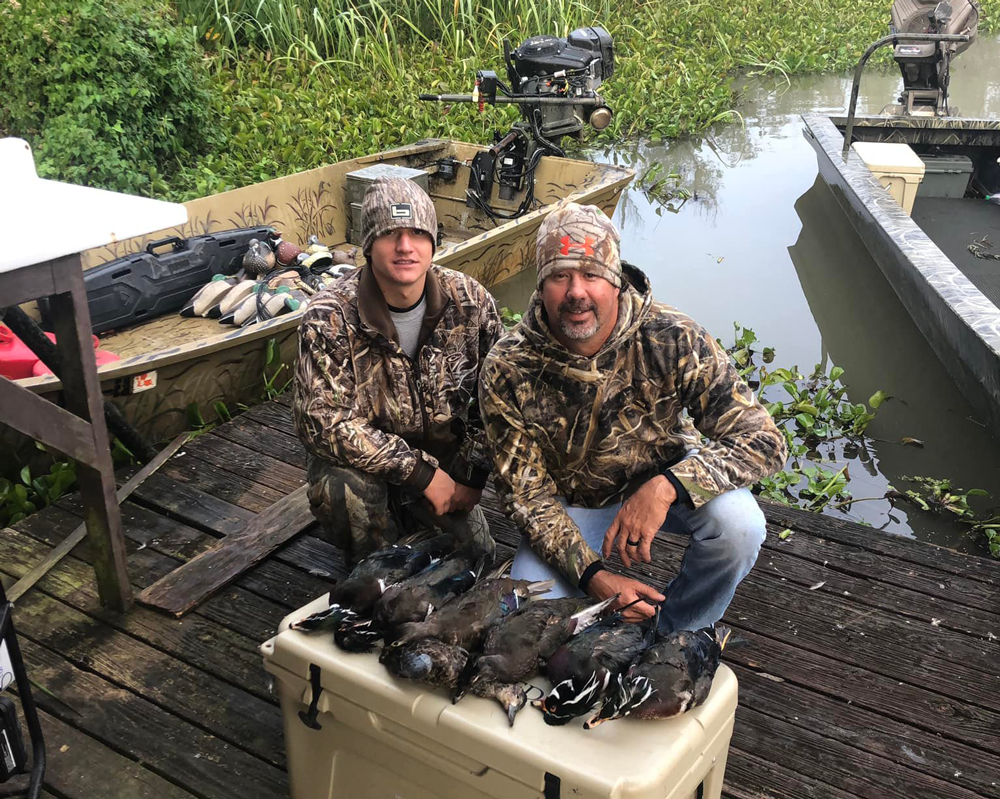 Louisiana Swamp Tours
Come explore the swamps of Louisiana with Skell's Outdoor Adventures.
Celebrating 100 Seasons of South Dakota Pheasant Hunts
On October 30th, 1919, the first pheasant hunt took place in Spink County and within fifteen years, pheasant hunts were held in every county across the state. It all got started with the first release of birds in 1908, and if you'd like to hunt right on and near the very land where it all started, we can make it happen for you. Take part of a rich South Dakotan tradition that is alive and continues to thrive today. If you want the absolute best authentic pheasant hunt, come on out and see us here in the heart of South Dakota to start your own tradition, it will be a hunting trip you will never forget. We pride ourselves in making memories!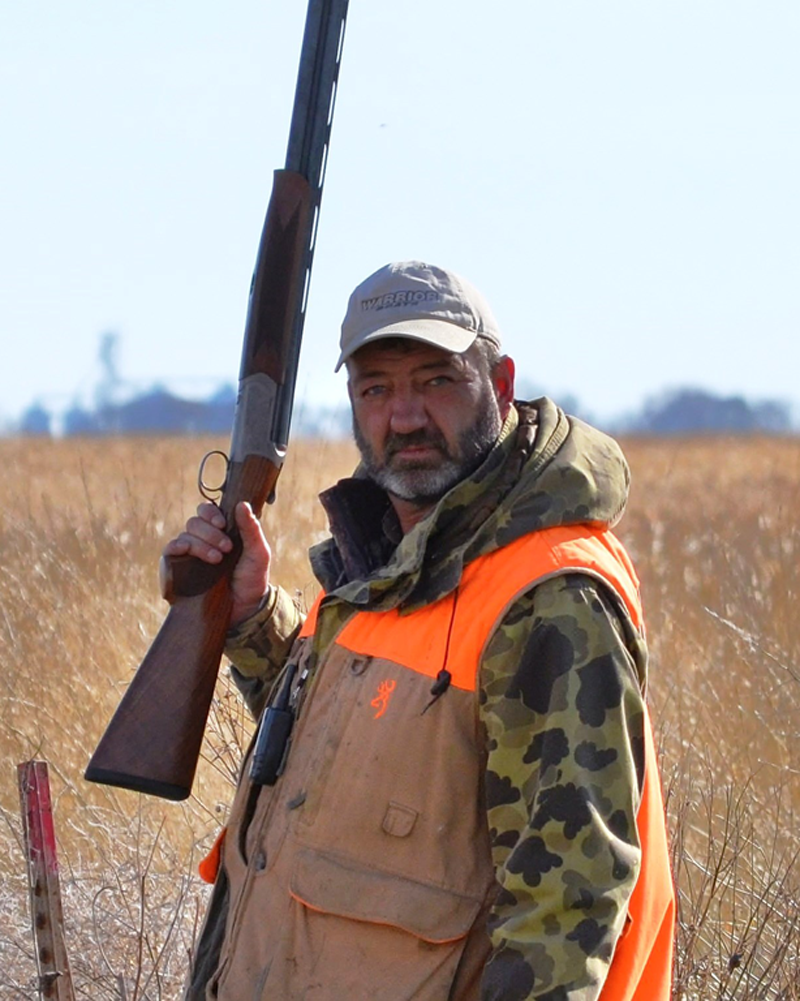 About Dakota Pheasant Guide
Dakota Pheasant Guide is owned and operated by Dennis Foster. Dennis is a prolific and widely published outdoor writer with articles in numerous national and regional publications. He has also hosted and been a frequent guest on several outdoor television shows. Most notably Focus Outdoors TV, Tom Gruenwald Outdoors, and In-Fisherman TV. The culmination of his communication and promotional skills is the creation of Focused Outdoor Promotions, of which Focus Outdoors TV is a major component.  As a South Dakota native, hunting and fishing is ingrained in his DNA. He's spent years as a touring pro on the professional walleye fishing tournament circuit and still competes when scheduling allows. His open water fishing is largely focused on the Northern Lake Oahe Walleye Tournament Series which he created to benefit the anglers, communities and businesses of the waters of the area.
At Dakota Pheasant Guide we strive to provide our guests exactly the kind of hunting atmosphere that we would want for ourselves. Our hunts are conducted just the way we learned being raised in Spink County SD, where the first successful release of Chinese Ringneck Pheasants took place and our County Seat, Redfield being the undisputed Pheasant Capital of the World. From prime hunting land to well trained dogs and premium shotgun shells by Fiocchi, we make sure you have the best-while hunting with the best. After all, we are not just doing this for a living… it is truly our lifestyle. We simply will not compromise that, ever. With us you are an integral part of the hunt. Not just some shooter in a line-up that rode to the field in a converted school bus. The old Suburban's we hunt out of perfectly depict our style. Come on out and join us this season and make yourself some memories while experiencing the hospitality and fine hunting we are now famous for. These are truly "Bucket List" hunts that create memories to last a lifetime.
Download the Dakota Pheasant Guide Brochure Now
An easy way to share information about hunting and fishing opportunities with your friends and family.