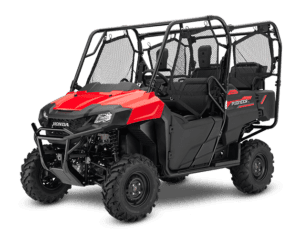 THE MULTITOOL OF THE SIDE-BY-SIDE WORLD.
If you were stuck on one of those desert-island reality TV shows, what would you take with you? There's no perfect choice, but a folding multitool or a Swiss pocket knife would probably be a great start.
Now, think of the world of side-by-sides. Which one most closely approximates a premium multitool: versatile, well-built, something you can count on in a wide variety of situations? The answer: a Honda Pioneer 700.
Displacement and size-wise, it sits right in the middle of our Pioneer lineup, which makes it not too big and not too small. You can configure it to carry two or four people, and can further refine it with trim packages and other features. The overall size and Honda refinement means it handles like a dream—a claim few other side-by-sides can make. And best of all, the Pioneer 700s are comfortable, a joy to drive in conditions that would wear you out on another side-by-side.
THE PERFECT COMBINATION OF FEATURES AND SIZE.
Like the way the Honda Pioneer 700 and 700-4 look, but want something that stands out a little more? How about this: The Pioneer 700 Deluxe and Pioneer 700-4 Deluxe. We've kept the best parts of every part: the 675cc liquid-cooled engine with plenty of power. The three-speed automatic transmissions that give you something few other off-road automatics can—true engine braking in demanding terrain. But the Deluxe models feature transmissions that let you choose either manual paddle shifting or fully automatic shifts. Deluxe models also include Electric Power Steering (EPS) and painted bodywork (Matte Gray Metallic on the 700 Deluxe and Pearl Orange on the 700-4 Deluxe), as well as colored springs and aluminum wheels. All models feature a massive 1500-pound towing capacity and 1000-pound hauling capacity, while the 700-4 models feature our QuickFlip® seating system—they're a 2-seater, a 3-seater and a 4-seater, all in one.