19
Jul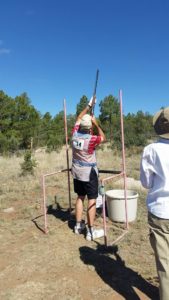 During the past two weeks I have been fortunate enough to have been able to shoot in two different state Sporting Clays Tournaments. That in itself is not particularly note-worthy, a lot of retired shooters do as much on a regular basis. However, what makes these tournaments unique is that neither were on Real Estate that throws regular NSCA registered tournaments. They were on somewhat "virgin ground" if you like.
Several questions can be asked, why? Is this good for the local clubs who offer monthly or at least quarterly tournaments for their customers? Was this an anomaly or is it a trend that points a new direction for Sporting Clays tournaments?
As I commented in a previous Blog, State Championships and many Regional tournaments have gotten very large in both total participation (New Mexico had 197 shooters and Oklahoma had 417 shooters) and in numbers of events being offered. For example, there is usually;
200 target Main Event shot on two separate courses simultaneously
100 target Preliminary and a 100 target Farewell that can share a course
100 target FITASC with 4 Parcours each having 3 shooting positions or "pegs"
50 to 100 target sub-gauge events using the same course with multiple machines and shooting positions
50 to 100 target Super Sporting on a course with 3 machines per station
50 to 100 target Side-by-Side and Pump Guns often sharing the same course
100 target 5-Stand with 4 layouts all used simultaneously
Of course the number 1 priority for all of this is SAFETY so shooting positions and the shot fall zone must be considered so Side-by-Side shooters are not raining shot on sub-gauge shooters and so on. All of this requires Real Estate not needed for the weekend 100 target 10 to 12 station tournament. Also consider transportation shooters need while on the course. At some events the Clubhouse for registration can be a legitimate ½ mile or further from station # 1. If the particular course is in a somewhat straight line, we can only guess how far it is from the last station back to the Clubhouse. Can you say exercise? As our shooting population ages and temperatures warm (it was 99 degrees plus in Oklahoma this past weekend) transportation on the course is no longer a luxury but increasingly, a necessity.
The use of Golf Cars and multi-passenger ATVS has also dictated the need for Real Estate. At one time a club could allow 20 feet per vehicle for parking. That distance has now increased to 50 feet for the vehicle and trailer with room to unload and reload our Clays Car. Parking alone has become a big deal. Many local clubs simply don't have the Real Estate to sponsor the kind of event larger Sporting Clays tournaments have become.
Hence, the use of locations (ranches and farms) outside the traditional gun clubs. Often these ranches have land holding measured in sections rather than acres and very often terrain and vegetation that is totally different than what we are accustom to so it makes for challenging and entertaining shooting. Since these locations are temporary and only setup for a specific event a benefit, perceived or real, is that there isn't a home-field advantage. Everyone is shooting over new ground for the first time.
The two examples I encountered this summer may be just isolated instances and it is certainly too early to see if this is going to be a trend but it does warrant watching. Have any of our readers observed similar tournaments in other parts of the country? My two experiences were both enjoyable and I'm looking forward to seeing what 2018 has to offer.
Pull………..
Phil R. Hechler
NSCA Level II Instructor
Houston, Texas